Living Green (continued...)
Water: Our domestic water for drinking and washing is on a multi-filter system that includes a carbon filter, two paper filters, bio-photon and ultra-violet protection. Low flush toilets and outside taps only use a primary stage paper filter and are on a separate feed line so they can have their water source changed in the future if an alternate water source is developed.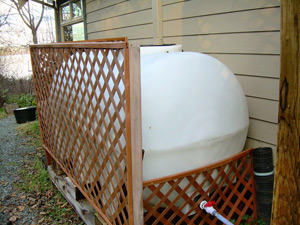 Rainwater catchment tanks
Two large outside above-ground storage tanks capture rainwater from two separate roof areas. All indoor plants are rainwater-fed from these tanks along with rhododendrons and herbs grown near the house during the dry season.
Cooking: In the kitchen, Nancy uses a convection oven, magnetic induction cooktop and an infra-red oven, all of which are not only more efficient and faster but eco-friendly, cost effective and much safer for children that may be around. The refrigerator in the Royston House kitchen is a new energy-efficient GE Profile Energy Saver.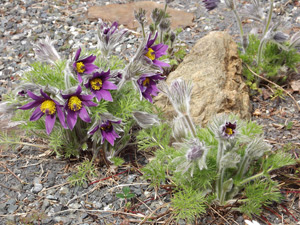 Alpine Garden growing in natural shale rock at Royston House BB
Laundry and drying: Natural soaps and cleaning products are used both in our house and in the Bed and Breakfast including handmade soap from the Royston Soapworks for the guests. Luxury natural all-cotton sheets and pillow cases in the Carriage House Suite B&B are air-dried by ocean breezes for freshness and to save on dryer electricity. Taking a page out of grandma's book, we let the sun keep our sheets and pillowcases bright white. When the weather is bad, towels are hung to dry indoors in a storage room that receives surplus heat from a gas hot water tank that is located behind an upstairs bedroom shower near a second bedroom. Royston House uses front load washing machines which are rated as being more efficient-a small stacking one adjacent to the house bedrooms and a large one with easy access in the garage immediately below the Carriage House Suite.