Do Fence Me In (continued...)
After this fortuitous bit of eco-friendly salvaging, we built several pocket gardens that were in harmony with the native plants already on the property. Unfortunately, the resident deer were as fond of the gardens as we are and enjoyed making a snack of the plants as they strolled through. We decided to experiment by surrounding the pocket gardens on three sides with split cedar rails, homestead style and guess what? Deer are a bit lazy so they decided to go around rather than across the garden on their way to their favourite plants leaving ours alone.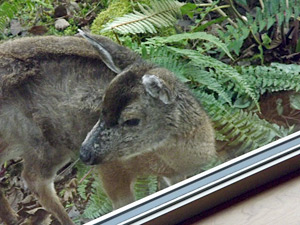 Black tailed baby deer
Some people may not consider rocks as part of an eco-system but at Royston House they've become striking features in both naturalized and created gardens. Rocks serve as a base for rich green mossy sculptures and since snakes love rocks almost as well as they like devouring slugs, the place is mostly slug-free au natural. Old rock piles have also been transformed into rock gardens, pond architecture and featured stream beds with all these carbon-neutral building blocks coming right off the property. Natural flat rocks were used to embellish the front of the solarium entrance as well as the interior fireplace- all still natural.
When it came to building a driveway, we felt that "building green" meant sticking to a gravel driveway. We discovered part of an existing old roadbed of gravel which had linked to the home next door when this property was the orchard for the Hilton Manor. The existing deep layer of organic mulch was saved for a future garden bed-another bit of recycling-and locally obtained crushed gravel was added to a substantial gravel base below. The balance of the driveway and parking areas were also finished with crushed gravel. Because of the natural slant of the property, the gravel had an ancillary benefit-water runoff is mostly controlled to filter into adjacent soil and gardens. The water runoff also feeds the fruit trees thus eliminating the need to water them. The success of this eco-friendly watering system is pretty obvious when you see the huge Royston House organic apples!
Winters in the Comox Valley are mild but for those rare icy days, Royston House uses Eco-traction, a product available at Home Depot. Eco-traction turns colour when applied to ice so you know where you've been; it is also light weight, easy to spread and covers a large area with a small amount of the product. Best of all, it prevents slipping on walkways such as our bridge entrance and remains in place until it is washed off or it composts into the gravel areas.