Eco Location (continued...)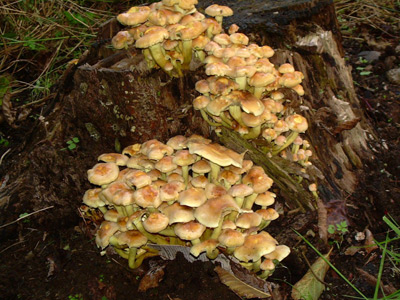 Mushrooms
The soil is the key; it remains organic and has built up naturally over the decades when the property was left alone. This has allowed native plants, trees, berry-producing shrubs, native sedges, ferns, grasses and wildflowers to naturalize here so substantial regeneration continues whenever an open soil area becomes available. All this wild abundance attracts wildlife throughout the year giving the property a balance of wild flora and fauna.
The birds make their contribution as well by distributing seeds so that over the years new trees have sprung up to complement large evergreens established decades ago. The state of nature is further enhanced by rock piles left from previous removals; plush brush piles and dead tree snags provide an ideal habitat for wildlife.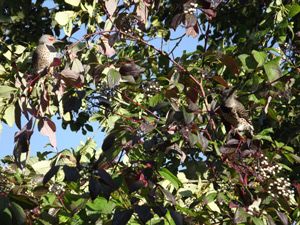 Eco-Location for fall and winter visits by a pair of Northern Flickers
A host of bird and animal species find the tranquil setting of the property too tempting to refuse. Fruit and native berries are left for birds and often, on a winter's day, up to 200 birds of different species will visit the garden.
To provide balance, we created an open centre of grasses plus gardens that contain native species, all are cared for with earth-friendly principles. Enrichment for the gardens is provided by using compost and effective organic fertilizers, micro-organisms and beneficial nematodes, never herbicides or pesticides. Water is also provided naturally by several pond areas that have been constructed for water catchment systems.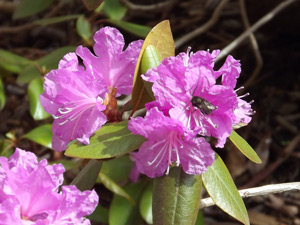 Orchard Mason Bee gathering pollen from a PJM Rhododendron
We donate native plants for restoration projects such as Portuguese Creek north of Courtenay where we donated two pickup truck loads last spring. The space vacated by these donations has already regenerated creating plants that will be available in about a year.
Royston House exists in perfect harmony with nature by simply being what it is. It is part of Naturescape British Columbia and has been certified by the Canadian Wildlife Federation as an official Backyard Wildlife Habitat.