Building Green (continued...)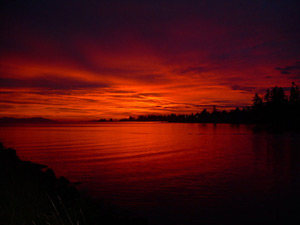 Royston Sunrise
Fortunately, there are two natural open areas which we have retained to capture views on the Strait from north of the house and to catch the morning sunrise to the east from the Carriage House suite.
In the construction of the house and guest house, we used natural building materials wherever possible including eco-certified engineered alder flooring, natural slate tile, flatstone native rock, Douglas fir salvage offcuts and red cedar. As principal designer and contractor, Ross was able to work a custom design to minimize waste by matching dimensions to available building materials. ARXX ICFs were used for green energy efficient construction (over 40R rated) that was structurally tough and had superior fire resistance and sound suppression. An added plus is that ICF construction is fast. By using large vinyl lined Euro-styled Argon E windows and placing them effectively we achieved good passive solar heat and light as a side benefit. These are also energy efficient in colder weather and ensure that we have limited need for interior lighting during the day. Exterior cladding is all hardy, plank cement board with multi-coats of Enviro-Coat Acrylic Ceramic Coating that ensures an extremely long life with heat/cold reflective properties. There is only one main interior support wall in the house with its open plan timber frame design.
Lighting: Interior ceiling lights are on dimmer controls except for the kitchen which is on Par 20-9 watt CFL (compact fluorescent) pot lights (54 watts versus 210 watts before). All interior lamps use closed glass system 12-watt CFLs. Exterior lights are all on low-watt CFLs. The CFLs we use are not the open curly types but are a higher-grade glass enclosed system. CFLs are slower to warmup but provide excellent light at substantially lower energy costs.
Heating: A central high efficiency two-stage Carrier heat pump is managed with one-degree incremental increases in temperature to minimize electric load impact. With our window expanse on sunny days, temperature levels are reduced as we receive substantial passive solar heat naturally. At the time of building the house, the design specs for the heat pump allowed for a 25% reduction in size due to the building and window design.
Outside air quality: Our location on the Comox Bay provides fresh evening breezes along with low humidity (even in the heat of the summer) which helps keep the temperature ideal. Opening the Oceanside windows in the late afternoon on a hot day also provides for comfortable sleeps.
Inside air quality: Central heat pump air conditioning is seldom activated as there have only been a few times in seven years when house temperatures rose above 75 degrees Fahrenheit. We have recently added a new electronic/paper air filtration upgrade to our Carrier heat pump system which minimizes dust and eliminates pollens. There is also an individual electronic Oreck air filter in the Carriage Suite bedroom. The Royston House B&B is a smoke- and pet-free Bed and Breakfast.
Water design: The abundance of water in the Comox Valley is both positive and negative. The seasonally high runoff during the late fall season presented a significant challenge to us at Royston House so in order to get approvals to build, we needed to add a comprehensive water-runoff control system. The natural northwest slope to the land with an underpinning of shale rock meant adding three separate cross property drainage lines of CSA standard drain tile backfilled with drainage rock and covered with landscape fabric. These drains totalled 900 feet including a mainline connection to a series of catchment ponds at the lower end of the property. These ponds proved excellent in processing this runoff water with much of it returning to the ground and acting as a form of rain garden feed. Other water from some roof areas was also processed here along with other roof area water from the front of the house that initially was fed into the house ponds with overflow going to the catchment ponds. The balance of drainage around the house and roof areas now goes through an artificial meandering creek that we built with substantial rock and diversions. All in perfect harmony with Nature.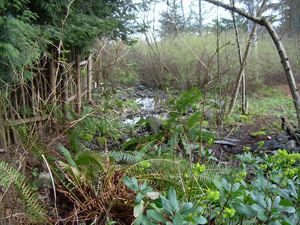 Catchment Ponds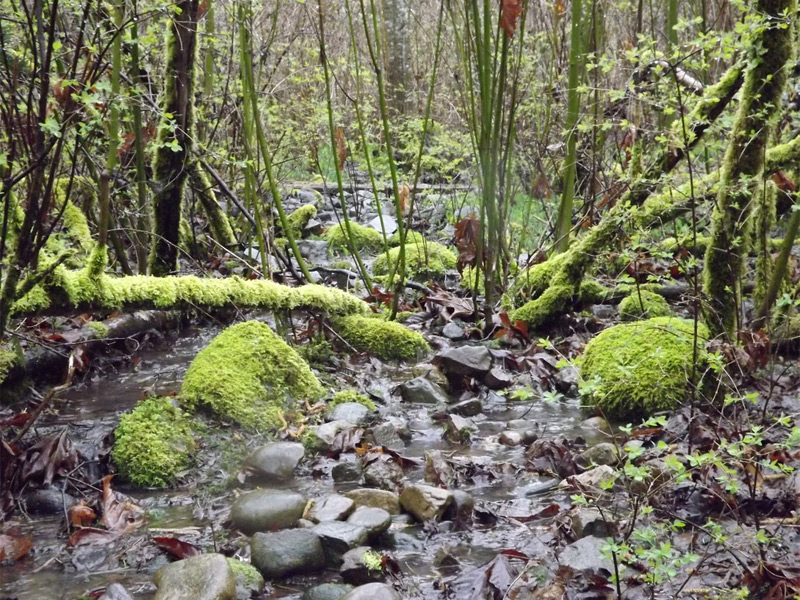 New eco creek to disperse water from roof and perimeter drains